STUDENT SUCCESS STORIES

Sewing & Alterations for Tamworth Local Aboriginal Land Council
Bumbira Art & Culture Program and TCC
"As the chair of the NAIDOC Committee, we spoke about how we can get the Elder's involved this year. The idea behind the sewing course, delivered by Tamworth Community College with Trainer, Jennifer Campbell, was the get Elder's involved in the NAIDOC Debutante Ball by creating sashes for the girls.
When I spoke with the women in our community, they were more than happy to help with this. The women involved in the sewing class also attend our weekly Art & Yarn program at the Coledale Community Centre, through Bumbira Art & Culture Program. These women are crafty and creative in every shape and form, and are always giving back to their community in different ways. This opportunity helped to upskill them, as well as get them out and about supporting our youth.
The sewing course was desired by the ladies for a long while and has been a great experience for all who were involved. Our overall experience with the College was amazing, and it was great to see the women get eager to get involved in something that involves our youth. All women involved expressed their comfort with Trainer, Jenny, and are already thinking of the next project to work on."
Cassie - Project Officer, Bumbira Art & Culture Program - Tamworth Local Aboriginal Land Council

Meet Emily,
Certificate I in Access to Vocational Pathways Part Qualification Student
What was covered:
- Reading aloud and working on pronunciation
- Reading text and discussing content
- Writing SMS messages and short text/abbreviations
- Calendars and numeracy
- Assistance with preparing for driver knowledge test
Emily found reading aloud and discussion to be the most productive and enjoyable activity. Emily expressed that she was comfortable with the whole process and found lessons enjoyable with no pressure to proceed. Emily felt she was able to set the pace of learning herself.
"Doing a course with Tamworth Community College felt easy and comfortable for me. I was able to break up my course into one day per week sessions and work at a pace that was set by me - I never felt rushed or pressured. What I enjoyed most was reading aloud and discussing different books in different ways. My course has helped me with other things in my day-to-day activities as well. Miles helped with practicing for my driver's licence and has given me guidance on how to work on this at home now on my own. I am also using things that I learned during my course in my current job at Calala IGA and have been interacting with customers more confidently.

I would recommend the College to anyone who is wanting to just 'have a go'. I am already thinking of ways that I can return. Thank you to all staff for your support and help."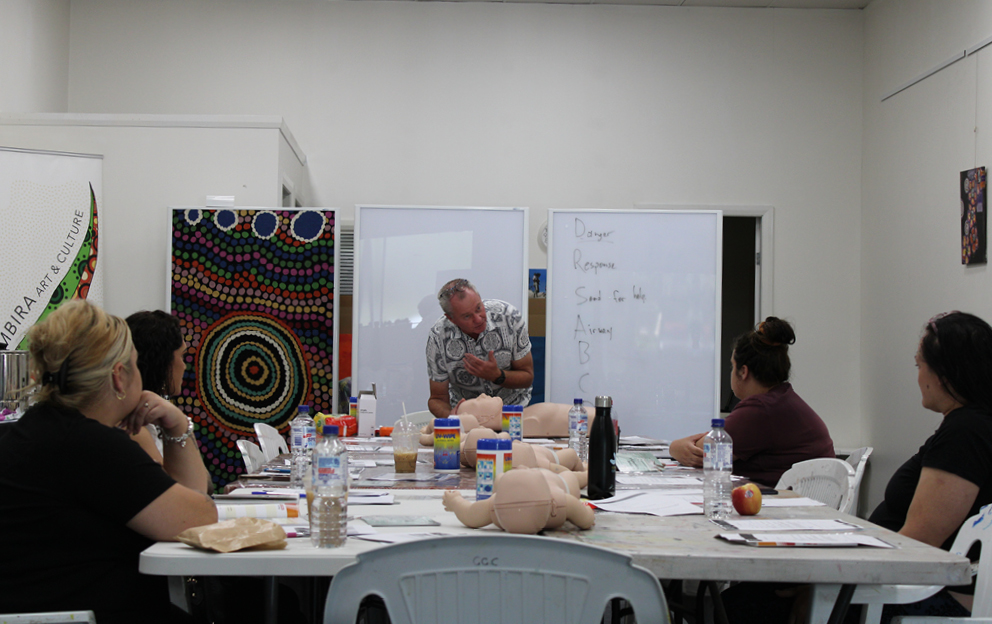 First Aid for Mums & Bubs,
Bumbira Arts & Culture Program and TCC
"The First Aid course was a thought we had at Bumbira Art & Culture Program for the women who attend our Mums & Bubs program, especially for first-time mothers. We also offered the course to women who attend other programs through the Tamworth Local Aboriginal Land Council to help them with employment opportunities. We thought this would be a good course for those wanting to get employment in childcare".
"The outcome of this course was very beneficial to the women who attended. They have gained confidence in themselves to be first aid officers and to deal with emergencies with young children. The knowledge they took away from the course was amazing. I highly recommend this course to anyone wanting to get their First Aid certificate".
Cassie - Project Officer, Bumbira Art & Culture Program - Tamworth Local Aboriginal Land Council


Meet Grahame,
LLN, Vocational Pathways & Computing Student
Grahame completed studies in Certificate II Work and Vocational Pathways and Computing for Work at Tamworth Community College. He has been employed in the Linen/Laundry Operations department at Tamworth Base Hospital for more than 28 years. Throughout his time in this role, Grahame had been unable to transition to a promoted role due to his level of language, literacy and numeracy (LLN) skills.

For this reason, he initially enrolled at Tamworth Community College.

Over time Grahame improved his LLN skills and developed the confidence that helped him to participate in the televised SBS Series Lost for Words in 2022. Lost for Words follows eight everyday Australians that struggle to read and write enter into a nine-week education program run by two expert adult literacy teachers, with a bespoke approach centered around real-life challenges. In November 2022, Grahame also participated in a discussion panel at the CCA 2022 Sydney Conference.
"A lightbuld moment happened in the classroom with Cheryl after I took the first step. And I am glad it did, I haven't looked back."


Tech Savvy Seniors,
Students from the Tech Savvy Senior (TSS) Program
Tamworth Community College (TCC) helps local seniors build their skills and confidence to use computers, tablets and smartphones through the FREE Tech Savvy Seniors (TSS) program. The TSS program is delivered in partnership with TCC, the NSW Government and Telstra.
TCC recently delivered tech training to three groups of eager senior students in its first successful TSS delivery. Over nine weeks, 24 students between the ages of 60 - 89 learned how to keep- in touch with family and friends, access government, health and other essential services, and safely search the internet.
TCC were incredibly impressed with the response from the community for the course after a shout-out from Member for Tamworth Kevin Anderson MP.
Student feedback has been positive, with Mavis Brown stating, "This course has opened new doors and given me insight into more things I can do on a computer that I didn't know. It has made me more aware of my security from what I put out there on the internet". Student Wayne Bevan said, "The Tech Savvy Seniors course is a very well laid out course. It is a fun time that goes so fast. I have learnt a lot straight away".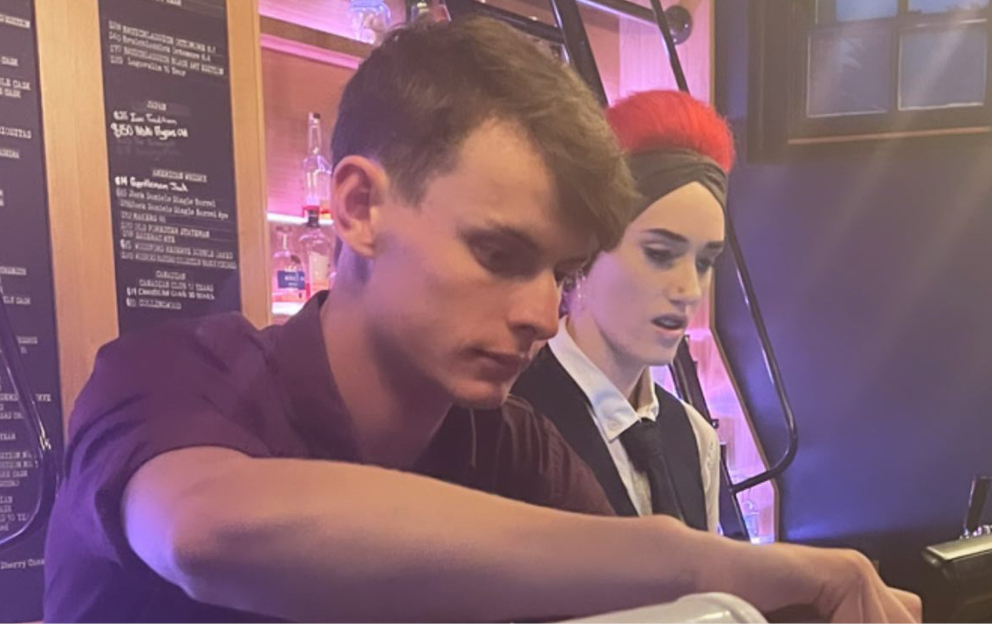 Meet Oliver,
Hospitality Student
"After completing Year 12, I decided to have a gap year to give myself a break from studying, and to begin saving money. I knew many local pubs and hotels were looking for staff, so I began to look into getting my RSA and RCG certificates.
I found Tamworth Community College and enrolled online. I then received a call explaining that these courses would be fully subsidized, due to me being a school leaver, which was a great benefit.
Upon completion of these course, I also enrolled into TCC new Bar Skills course held at The Press, which was an extremely helpful and useful course giving the students hands on experience in the hospitality sector, teaching skills such as changing kegs, pouring beer and wine and making cocktails.

When I finished this course, I handed the managers for The Press my resume and had an interview a few days later.
I began working for them the week after that."


Meet Sharlene,
Certificate I in Access to Vocational Pathways Student
"Last year I decided that I would like to get a job in retail, and thought about doing a Certificate II in Business course. I needed to improve my reading and writing as well and I decided to go the Tamworth Community College to see if they would be able to help me.
Late last year I started a short course with one of the Trainer's who I saw each week, and early this year I enrolled into a Certificate I in Access to Vocational Pathways. I completed the course in May 2021 and was very excited to complete this.
At the same time as this I was going for my L's, and being able to read better made it easier for me. I also volunteer at Liberty Foodcare and improving my reading and writing has helped me there as well.
I have really enjoyed my time with Tamworth Community College, all of the ladies in the office are helpful and happy, and my Trainer has been very supportive which made learning fun."


Meet Angus,
Hospitality Student
"In choosing to pursue a gap year, I turned to hospitality to gain employment and found myself working at the Courthouse Hotel in Tamworth. I was required to obtain various qualifications as a legal requirement of my position. Having worked previously in a café, I was familiar with the customer service requirements; however, the qualifications I needed were unfamiliar to me. It brought an added level of responsibility and the need for research.
In researching a Responsible Conduct of Gambling (RCG) course, I found the Tamworth Community College running them regularly, and I enquired. The team, who were incredibly helpful and friendly, informed me that I was eligible for fee-free training as I was a school leaver. The subsidy made the course more accessible and gave me an incentive to gain further vital qualifications, strengthening my skills and knowledge for various hospitality employment opportunities.
In gaining my RCG, I am readily qualified to work in a gaming environment and will actively use information from this training in my day to day work and future endeavours."


Meet Maddy,
Hospitality Student
"I recently completed my Responsible Conduct of Gambling (RCG) at Tamworth Community College, and have also obtained my Responsible Service of Alcohol (RSA) alongside this. Now that I have these qualifications, I am able to go straight into a job that I have been offered in the hospitality industry.
I am 19 years of age, have grown up and lived in Manilla NSW my entire life, and currently work full time at CareMore Pharmacy here. Studying at Tamworth Community College has given me the chance to further my job opportunities and take on another career path with the Manilla Bowling Club.
I would really like to thank the team at Tamworth Community College for their help and support with this."



Meet Prue,
Hospitality Student
"In 2019 I was making my way back into "regular" work after staying home raising children, and my husband, Daniel, was between jobs.
I'd been considering purchasing a local cafe and when Daniel's job provider suggested he do some study at Tamworth Community College; we both thought a few extra qualifications wouldn't go astray. We signed up to do the Espresso Coffee course and also Food Handling.
We found both courses interesting and informative and decided to purchase Teamo Teahouse.
I also enrolled in the Food Safety Supervisor and Responsible Service of Alcohol (RSA) courses to add to my knowledge, certification, and competency. All of these courses have set me up very well to walk into my new role and I use my learned skills every minute of my workdays. Daniel has since gained his RSA as have several of my staff.
I absolutely recommend doing any or all of these courses at the Tamworth Community College. It's so easy to just spend a day at the College and learn with those around you also interested in the same subject and walk out with your qualifications on the way."


Meet Meg,
Trainee
"After graduating high school, I commenced full-time employment with Oxley Community Transport as a trainee. Undertaking the Certificate III in Business Administration at Tamworth Community College provided me with the support to study, work, and gain industry experience all at once.
Tamworth Community College has helped to shape my career path, providing me with specific knowledge and workplace skills that aren't covered in a school setting. The support and encouragement I received from my trainer throughout my studies was incredible. The administration staff ensured that I was comfortable and enjoying my studies. TCC was extremely flexible in their training approach, allowing me to alter my training times to better suit my schedule.
I would highly recommend Tamworth Community College to anyone considering a career change or wanting to further their knowledge or skills."


Meet Helen,
Customised Computer Training
After becoming physically unable to continue her job as a Haemodialysis Nurse, Helen realised she needed new skills to make the transition into administration duties.
"I had some basic computer skills from using various programs during my career, but I realised that was not enough. I was embarrassed and extremely nervous. I attended two, 2-hour one-on-one lessons with Max Collins.
The experience was life-changing! It gave me the confidence to try new things. Now, I am in a new town in a new job and will be eternally grateful for the gentle approach and the many new skills I learned.
I recommend this avenue of support to anyone seeking to learn or improve their computer skills."


Meet Carmen,
Customised Student Support
"I was looking to further my qualifications to gain Certificate IV in Assessment and Training in Coffs Harbour but unfortunately at the time, there were no available courses. I enrolled online to complete my studies and found this extremely difficult not having a trainer present to help me. I phoned around for support locally but nothing was offered my way until I made contact with Tamworth Community College who came to the rescue!
I was overwhelmed by the support and interest from the college to assist me in the completion of my studies. I thoroughly enjoyed my experience; I felt a huge weight being lifted off my shoulders at the end of the day knowing my studies were completed with the guidance, help, and support from a very knowledgeable and experienced trainer.
I highly recommend the Tamworth Community College to anyone interested in pursuing future studies. My trainer was exceptionally professional, providing the utmost support, advice, and encouragement.
From the bottom of my heart thank you so very much to all involved in giving me the opportunity to complete my studies with full confidence and understanding."